On March 27, 2020, we launched the crowdfunding campaign for Petit Qoobo, the new baby sibling of Yukai's therapeutic tailed robot, Qoobo, on the Japanese crowdfunding platform, Campfire. Just 43 minutes after the launch, we achieved 100 percent of our goal amount, or 500,000 Japanese yen (approx. $4,600 USD), eventually garnering 2,671 percent of the goal, or 13.3 million Japanese yen (approx. $124K USD) by the time the campaign ended on May 10. A total of 1,330 supporters backed our product. We would like to thank them all from the bottom of our hearts for their warm support and cheering us on throughout the campaign.
We are working hard toward delivery of the product to our supporters in October, as scheduled. Petit Qoobo is expected to become available for purchase by general consumers in November 2020.
Qoobo's Official Website : https://qoobo.info/
Petit Qoobo Crowdfunding (ended May 10) :
https://camp-fire.jp/projects/view/228513
Supporters' voices
・My circumstances do not allow me to have pets. I think having Petit Qoobo in my room will be comforting, as I love looking at animals' tails and having fluffy stuff around me.
・I am looking forward to putting Petit Qoobo next to the larger Qoobo.
・I reserved Petit Qoobo to give it to my grandma who doesn't hear too well. I am looking forward to receiving it.
・I'd like to support the project because I've been a big Qoobo fan ever since I bought the first one!!
・I reserved Petit Qoobo because I had been thinking about getting our Husky Gray Qoobo a new family member. I cannot wait to see Petit Qoobo respond to sounds.
・I had one Qoobo at home before getting a second one to make them a family! I get excited when I think about three Qoobos comforting me!
・I've been wanting Qoobo! The mini size one makes it easier to carry it to work! I'm excited!
・I have a Qoobo at home, and I look forward to welcoming the baby one.
・I have always wanted Qoobo. I was wishing there was another model of Qoobo that lets you feel its heartbeats, and then found out, to my surprise, it's being developed! I look forward to receiving it!
・I was attracted to its tail that looks just like that of my pet rabbit!
・I plan to give it to my father who is in a care facility. He used to have cats, and I think it will make him happy and prevent him from getting dementia and depression.
About Petit Qoobo
Petit Qoobo is a new family member of Qoobo, a tailed robotic pillow. Petit Qoobo is one size smaller than Qoobo. It wags its tail in reaction to the user's rubbing and stroking, just as Qoobo does, but also to the surrounding natural soundscape – be it the sound of clapping, or one's breathing. When cuddling Petit Qoobo, you can also hear its "heartbeats" (or, its vibration). We hope that this little cute one, reminiscent of skittish, sweet animals will provide you with comfort and enrich your life.
Features of Petit Qoobo
・Wags in response to your stroking
・So small you can bring it anywhere
・Wags in response to sounds and voices
・Occasionally vibrates to let you know it's breathing

It wags in response to your stroking.

It's so small that you can take it anywhere with you.

It wags in response to sounds and voices.

You can hear its heartbeat.
Story behind Petit Qoobo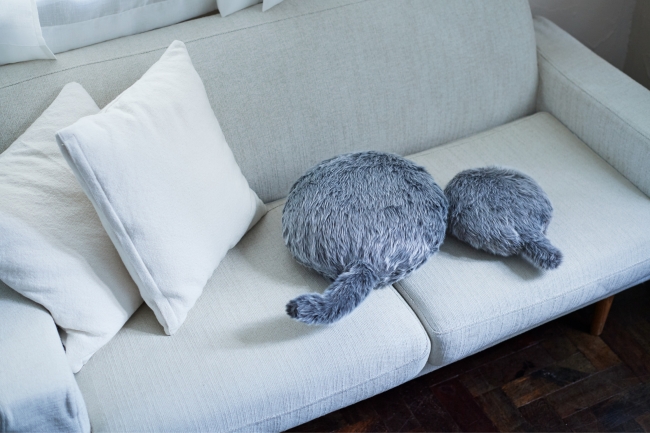 We began developing Petit Qoobo after hearing from our fans that they wished to be able to take Qoobo with them wherever they go. In order to make it possible, we decided to create a mini-size Qoobo with brand new features that resemble the characteristics of small animals. Petit Qoobo is available in four different soft colors: Gris (gray), Marron (brown), Noir (black) and Blanc (white).
The idea for the original Qoobo came from a Yukai staff designer who wished to have something waiting for her to comfort her at the end of a long workday while living in a pet-free apartment. Drawing inspiration from an animal's tail, Yukai created a robot that communicates solely through tail movements – without relying on sounds or facial expressions – to comfort humans in just the way cats and dogs would. The company's engineers studied the animal tail and created a mechanism that closely mimics its movements. The development team also paid extra attention to Qoobo's weight and texture to recreate the feeling of cuddling a real pet. Qoobo is designed for people who cannot own pets, including pet allergy sufferers, apartment dwellers and seniors. Within a year and a half since its market release in November 2018, a combined total of more than 15,000 units of Qoobo have sold in Japan, the U.S., Korea, Hong Kong and Taiwan.
For additional information about Qoobo, visit http://qoobo.info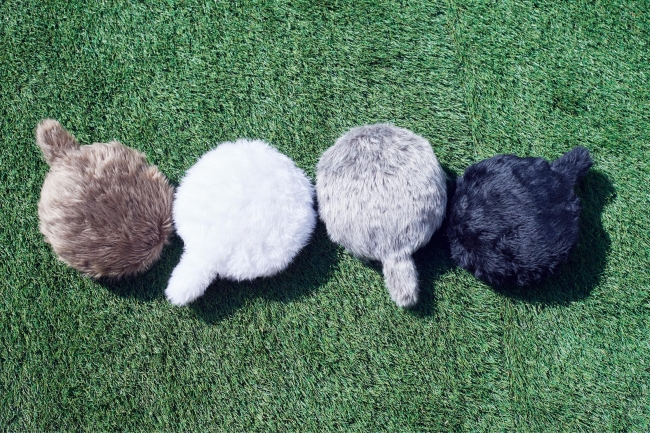 Petit Qoobo in four different colors (from left): Marron (brown), Blanc (white), Gris (grey) and Noir (black)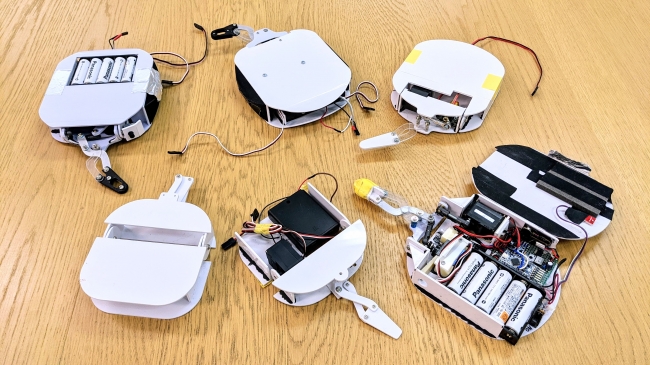 A prototype mechanism of Petit Qoobo. We diligently programmed and designed the tail mechanism through trial and error in order to achieve lifelike tail movements.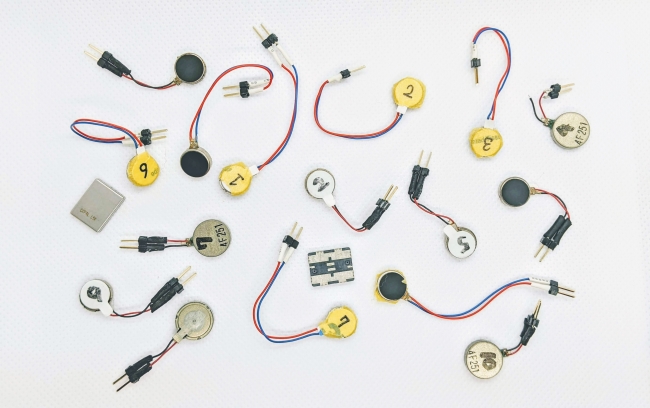 At one point, we considered installing an actuator to create breathing-like vibrations.
PRESS KIT:
https://drive.google.com/drive/folders/1P1L_7d5DLMMh2l2SVEoGsho-2vDMXPzZ
* For additional information about Qoobo, visit http://qoobo.info
* We are targeting November for the market release of Petit Qoobo. (As the product remains under development, its specifications, including its functionality, may change without notice.)