Yukai Kicks Off Crowdfunding for TELLBO on Green Funding!
No more social isolation! 
Connect with your loved ones living afar with the touch of a button!
April 28, 2020 
Difficult to stay in touch with your elderly parents 
because they have no cellphone or Wi-Fi? 
TELLBO can solve the problem!
SIM card-enabled, TELLBO can be used anywhere. 
Your reward for supporting the project on Green Funding will include:
2-year data plan
Sensor (for remote monitoring)
3-month free trial of check-in service by call center staff
SIM-enabled

2-year data plan included 

Monitoring sensor included

Call center check-in service
Yukai Engineering has launched a crowdfunding campaign on Green Funding for TELLBO, the communication robot it collaboratively developed with Huis Ten Bosch. TELLBO enables an exchange of voice messages between the robot and its mobile app with a touch of the button. The robot is designed to make it easier for family members who live apart from each other to communicate. Project supporters will receive a 3-month free trial of check-in service. 
Support the project now at: https://greenfunding.jp/kokobi/projects/3716
(April 28 through July 27, 2020)
Stuck at home? Missing seeing your parents?
Here comes TELLBO to the rescue! 
We are all losing opportunities to meet up and talk with each other while self-quarantining due to the coronavirus pandemic. Many of us feel isolated and are struggling to find ways to effectively communicate with our loved ones who live afar. 
TELLBO, the cute stuffed talking bear, enables you and your family to hear each other's voice with the touch of a button, providing a much-needed sense of relief during these trying times. 
By supporting the project on Green Funding, you will receive a 3-month free trial of a daily check-in service. An operator will interact daily with your loved ones with such helpful questions and comments as: 
"It's hot today, and we hope you are staying hydrated!" 
"Are you taking your medication every day?"
"What are you working on right now?"

(Caption)
You are home! How was your day?
Talking with your family on TELLBO is as easy as texting on your phone! 
TELLBO is suitable for you if:
Your elderly loved ones do not own or do not know how to use a cellphone.

You are concerned about how they are doing but unable to call them every day.

You worry that they may not be taking their medications regularly. 

Your loved ones don't have friends to talk to in their areas. 

You cannot visit your loved ones as often as you would like. 
Just plug in it in, and it's ready to use!
Wi-Fi not needed!
When you receive your TELLBO package, you will only need to unpack it and plug it into an electric outlet. The SIM card that is pre-installed in the robot comes with a 2-year data plan. TELLBO is easy to use for anyone!
(Caption)
SIM card pre-installed with a 2-year data plan

No registration needed

Plug it in, and it's ready to use
Something to keep in mind when ordering TELLBO for your loved ones:
The robot requires pairing with your smartphone to enable message exchange. We recommend you send the robot to your address and complete the pairing with your phone before sending it to your family members.  
Basic Functions:
Easy one-touch communication! 
From TELLBO to your smartphone
Hold down the button on TELLBO's belly to record a message. When you lift your finger from the button, the message is sent to the paired smartphone. 
The voice-to-text feature allows you to "see" the message you received, so you can check your messages even while in a meeting at work.  

(Caption)
"I'm home!"
From smartphone to TELLBO
You can send either a voice message or text message. When you record a voice message by using the TELLBO app on your phone, TELLBO will play the message for your loved ones. When you type a text message on the TELLBO app, TELLBO will read it out aloud to your loved ones.

(Caption)
"What's your plan for tomorrow?"
Whether you are a young adult living alone or a professional living away from home for work, TELLBO can connect you with your loved ones easily!
TELLBO brings families together, enabling them to care for each other while living apart. From grandparents to grandkids to in-laws, one unit of TELLBO brings them all together by connecting to each of their smartphones when they download the TELLBO app to their phones.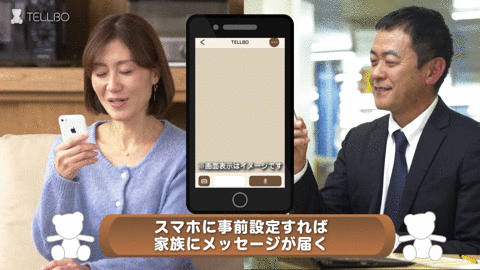 (Caption)
Easy setup to enable message exchanges among multiple parties! 
'Have you taken your medication?'
'Here's today's weather!'
TELLBO's reminder function lets you receive all types of information!
From weather forecasts and alerts to medical appointments to trash collection, you can send daily schedule reminders by easily setting up the TELLBO app for it. 

(Caption)
"Have you taken your medication?"
Use the door sensor for discreet monitoring
The red vibration sensor included in the package allows you to discreetly monitor your loved one's activities from afar. For example, you will receive a notification on your phone when the door at your loved one's home opens or closes if the sensor is attached to the door. Not receiving any alert for an extended period of time may indicate to you that your loved one is unable to leave their house. Remote monitoring can also help you understand the rhythms of their daily lives. 

(Caption)
"The sensor on the door has been activated."
Benefits for Crowdfunding Supporters
3-month free trial of check-in service
When you support the project on Green Funding, you will receive a 3-moth free trial of check-in service. A call center operator will send messages to your loved one to check in on them in the way you would. They will ask such questions or give helpful advice daily, such as: 
"The typhoon is approaching. Please stay safe!"
"It's getting hot, isn't it? Please take care of yourself to avoid a heat stroke!"
* The check-in service is available on weekdays only. 

(Caption)
Watch for heatstroke symptoms!
Free 3-month trial of check-in service 

Sign up to continue with the service while the trial lasts. 

The check-in service is available for 1,980 yen per month following the free trial.  
For additional details, including the return policy, please visit: 
https://greenfunding.jp/kokobi/projects/3716/